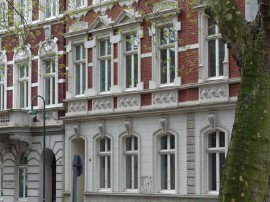 Would you like to attend one of the fairs in Düsseldorf?

Would you like to visit you family or friends?

Would you like to explore the historic sights, museums or theaters?

Or would you like to party in the Old Town?
The historical apartment building is located in the heart of Düsseldorf in the beautiful urban district Flingern.
Our great-grandfather built the annex for his music students in 1895.
On it's 1st floor is the charming apartment with kitchenette and bathroom. From here you look into the quiet, green courtyard.
The non-smoking room is equipped with TV and radio. Of course you will find bed, linen and towels. In the kitchenette you will find coffee and tea. Please don't bring your pets with you, thank you.

Düsseldorf Flingern

Just around the corner you find a supermarket (REWE open Monday to Saturday 7a.m. to 10p.m.), typical German fresh markets, bakeries and a kiosk.

Just within walking distance are restaurants that offer anything from typical German to Mediterranean, an ice cream parlor or snacks to go.

Flingern is a trendy suburb with Bistros, Cafes and Pubs.

The Ackerstrasse is just around the corner. Here you find Düsseldorf's fashion. You might buy it from the designer himself. Or stroll and look at the second hand stores or studios of artists. You will find everything from children's clothing to Décor and accessories. Flingern is next to the downtown of Düsseldorf. It is ideal for business, but also if you like to go out in the famous Düsseldorf Old Town. Public transportation like the Rheinbahn brings you there within nine minutes or to the fair in 30 minutes (15 minutes by car).

You can walk to all bus stops or subway stations within 5 minutes.

In the daytime it is easy to find free parking in the Degerstrasse. As it is popular to go out here, you might need a little bit more time to find a spot at night, but you will always be successful.

Prices on request
Minimum stay: two nights

Please contact us by phone or email:

phone: +49 (0) 176 - 924 64 070

email: app-duesseldorf(a)web.de